Management tactics, and their success, vary little from company to company. People managers at Fortune 100 enterprises, 3 person startups and everything in between must effectively communicate to their teams the definition of success.
After consulting for dozens of companies of all sizes, I have identified three foundational pillars of effective people management with regards to defining success.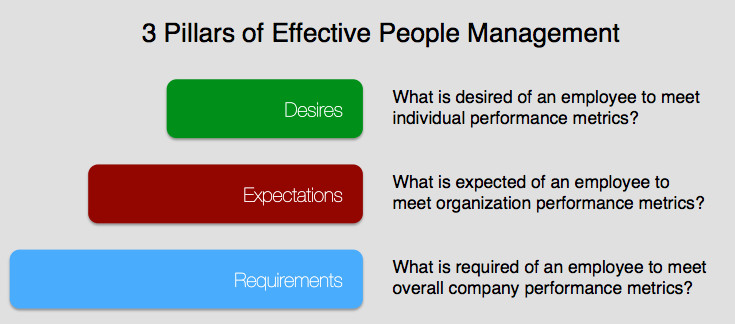 Requirements
This question is universally answered for all equal-level associates in a given role. Consistency is key for associate requirements. Each association at equal levels must be required to do the same share of work and have the same, shared definition of success. If a unit goal is 95 and there are 5 associates, each associate must be required to produce 19 units.
Expectations
Expectations take the associates requirements to the next level. Associates may be required to perform 19 units, but management may expect them to produce ahead of the deadline. This could be due to the individual or the team the individual works with. Expectations should not affect core performance metrics for the individual but should affect reward and promotion.
Desires
Desired work performance is based on an individual relationship between an associate and their manager. This associate may be required to produce 19 units per month. Because they are on a high-performing team, management expects them to reach the deadline one week early. After reaching their goal ahead of schedule, they desire for the associate to help the analysts or new junior associates reach their quota.
Final thoughts
The expectations and desires for each associate may change, but it is paramount that the responsibilities and requirements are consistent across same-level associates. Having the same level of requirements streamlines the monitoring and performance metrics that management must use to evaluation performance.
This level of communication and definition helps associates understand what they must do to achieve what they want. If an associate wants to only remain employed, they can focus on requirements. If they want to progress in their organization or company, they can focus on the desires.
Using this model, managers can explicitly communicate what must be done and employees have a clear and accurate understanding.
Does this apply to any people manager in any industry? Yes.
Should it be adjusted to meet the needs of a company, organization or team? Absolutely.
How effective is this model once implemented? You tell me.